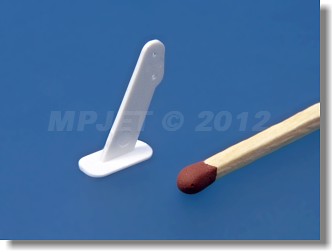 Since February 2012 the assortment of our products is extended by a new type of control horns made for the smallest models.
Since the beginning of 2012, our range of fastening nuts is extended with new sizes.
New mounting nuts (M8 and M8 short ) have the same construction as our currently made sizes – they are turned from aluminium alloy, the diameter designed for gluing is suited with knurling and grooving for easy gluing into the model.
Since the beginning of 2012, the assortment of metal pin type hinges is extended with two new sizes.
Since 7.3.2011, we have extended our assortment of metal latches for cabines and removable covers.
The whole latch is machined from metal and is made in two sizes – small – MPJ 2661 with body dia 4mm and length 10mm and bigger – MPJ 2662 with body dia 5mm and length 16mm.