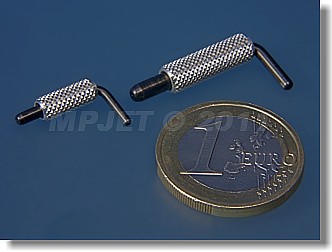 Since 7.3.2011, we have extended our assortment of metal latches for cabines and removable covers.
The whole latch is machined from metal and is made in two sizes – small – MPJ 2661 with body dia 4mm and length 10mm and bigger – MPJ 2662 with body dia 5mm and length 16mm.
Both latches have identical design – the body is made from aluminium alloy, the outer surface is knurled for easy gluing, the latch pin is made from steel, turned from one piece, the front part is tapered with two radiuses for bigger certainty of latching. The compression spring is made from steel wire, the extending force is different for each of the sizes (MPJ 2661 has spring from 0,2mm dia steel wire, bigger MPJ 2662 uses spring made from 0,315mm dia steel wire). When designing, it was important to make our latch as light as possible – MPJ 2662 has weight 1,5g, MPJ 2661 weighs only 0,5g. For gluing into the model, it is suitable to use epoxy resin. When gluing, it is important that the moveable pin is not glued aswell – this will make the latch unusable.
The weight of common types of this parts made from brass or steel is somewhere around 2,5g – this means way higher than ours.
Locking pin in MPJ 2661 has dia of 2mm, the stroke is 4mm, the pin dia in 2662 is 3mm and stroke is 7mm.
Both sizes of locks are packed in standard MP JET packets of 1pc.