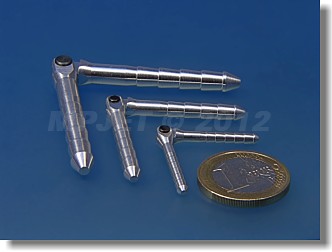 Since the beginning of 2012, the assortment of metal pin type hinges is extended with two new sizes.
MPJ 2540-2545 has dimensions 3x50mm (dia x total length), MPJ 2560-2565 has dimensions 6x98mm (dia x total length). The new sizes are made in all designs – with solid steel riveted pin, with changeable steel pin secured by circlip and without pin, where the parts can turn on inserted long straight wire which goes through one or multiple hinges. MPJ 2540-2545 hinges have pins of diameter 1,5mm and circlips 1,2 size (MPJ 0754), hinges MPJ 2550-2555 have pins of dia 2mm and circlips size 1,5 (MPJ 0750) and the biggest hinges MPJ 2560-2565 have pins of dia 3mm and circlips size 1,9 (MPJ 0751).
All three sizes of hinges are packed in standard MP JET packet of 2 or 6 pcs.