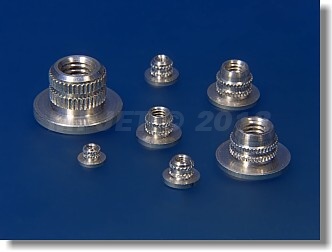 Since the beginning of 2012, our range of fastening nuts is extended with new sizes.
New mounting nuts (M8 and M8 short ) have the same construction as our currently made sizes – they are turned from aluminium alloy, the diameter designed for gluing is suited with knurling and grooving for easy gluing into the model.
The blind inserts are also turned from aluminium alloy, the outer surface is also knurled for easy and strong gluing. To glue, it is suitable to use epoxy resin. Blind inserts are very suitable for direct laminating – the insert is screwed onto threaded pin in the form itself and the insert is laminated in a standard way. After the laminate is hardened, the threaded pin is only unscrewed – the insert stays firmly laminated in the glassfibre shell itself. Newly, M2; M2,5; M6 and M8 blind nuts are being produced. (MPJ 1043-MPJ 1053)
The packet contains 4 or 10 pcs of these products.